World Corrugated Awards Recognizes Corrugated Industry's Leading Companies
On July 11, 2023, the World Corrugated Awards (WCA) Ceremony, organized by RX (Reed Exhibitions), was successfully held at the Wyndham Hotel, Shanghai Hongqiao. Cheng, Michael, President of RX Greater China, Li Hua, President of the China Packaging Federation, Kishan, WPO Ambassador and CP Lau, representative of ACCA, and many other industry elites and leaders came to the scene.
On 12 December 2022, the RX announced the return of WCA with brand new awards. And this is the first year RX co-organize WCA with ACCA. On the awarding ceremony, CP Lau, representative of ACCA said, "ACCA always regard WCA as the milestone grand event in bi-annual calendar to welcome and gather the global industry's key decision makers to celebrate. In the future, ACCA will continue to work with RX to make the WCA the "Oscars" of the corrugated industry."
The members of WCA 2023 jury included Peter van Ostaijen, Secretary General of CBA, Varna Sudasna, Chief Packaging Specialist of SCG Packaging, Hernán Braberman, Partner & Executive Design Director of Tridimage and other corrugated industry authorities. The international judging panel is the core team of the World Corrugated Awards, their professionalism and fairness in scoring the nominated cases and writing their comments determine the "internationality" and "authority" of the WCA.
2023 was a year full of change. It experienced the worst period of the epidemic in China, made case collection more difficult than in previous years. But during the entire competition, which lasted a full seven months, WCA received enthusiastic support from more than 100 carton companies from more than a dozen countries. More than 150 exciting case studies were collected, of which 60 outstanding cases were successfully shortlisted. After three stages of screening, online voting and scoring by a panel of judges, eight cases stood out.
Innovation Awards


Innovative Design of the Year
Winner: VIRUS REN GUARD PACKAGING
Company: RENGO


Innovative Material of the Year
Winner: Ultra-thin honeycomb panels (3.5mm)
Company: Tongling Xingrui Intelligent Technology Co., Ltd.


Innovative Application of the Year
Winner: OptimPak (two versions)
Company: Tri-Wall (Asia) Pte. Ltd.
Corporate Management Awards


Best Risk Management of the Year
Winner: Detection system to prevent fire in corrugated box plant (at Cutter Blower)
Company: Thai Containers Group


Intelligent Production of the Year
Winner: Longlide new landmark for high-end intelligent manufacturing
Company: LD Intelligent Technology Co., Ltd.



Business Transformation of the Year
Winner: Jifeng Packaging's Innovative Co-packing Business Model
Company: Pacific Millennium Packaging Group Corporation
Social Value Awards



People in the Industry of the Year
Winner: Longping, Xu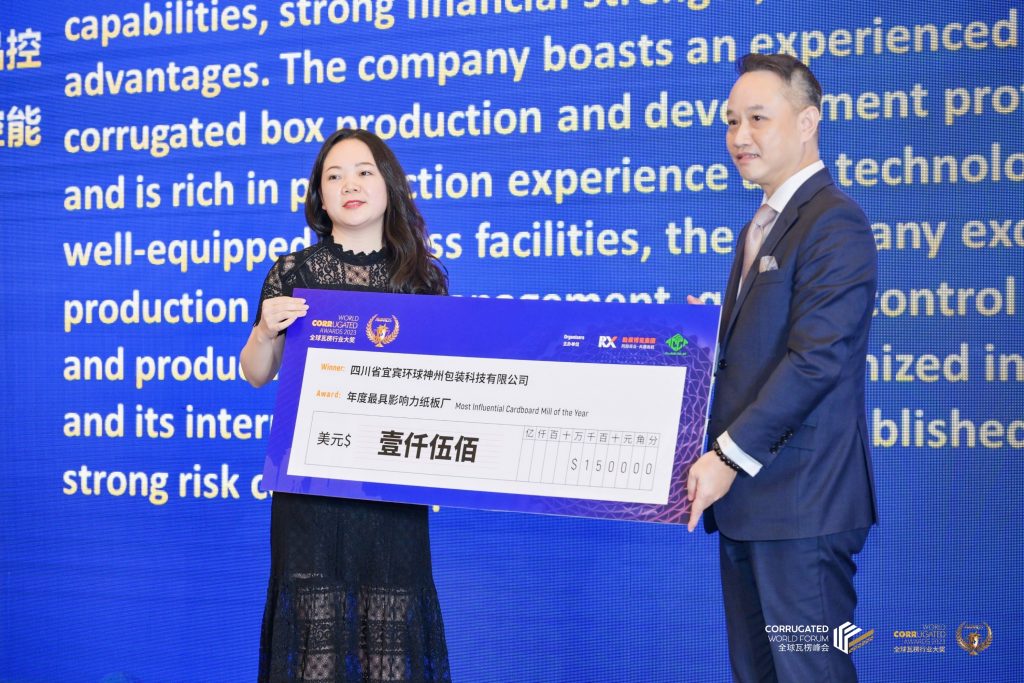 Most Influential Cardboard Mill of the Year
Winner: Sichuan Yibin Global Shenzhou Packaging Technology Co., Ltd.
Each winning case received a prize of USD1,000 (USD1,500 for the Most Influential Cardboard Mill Award).
The next WCA will be held in 2025 and all companies and individuals related to corrugated are welcome to nominate cases. The organisers will also invite more authoritative industry experts to join the judging panel of the competition to jointly take on a highly influential industry event.