Voith Grows Capacity for Refurbishment Services in Europe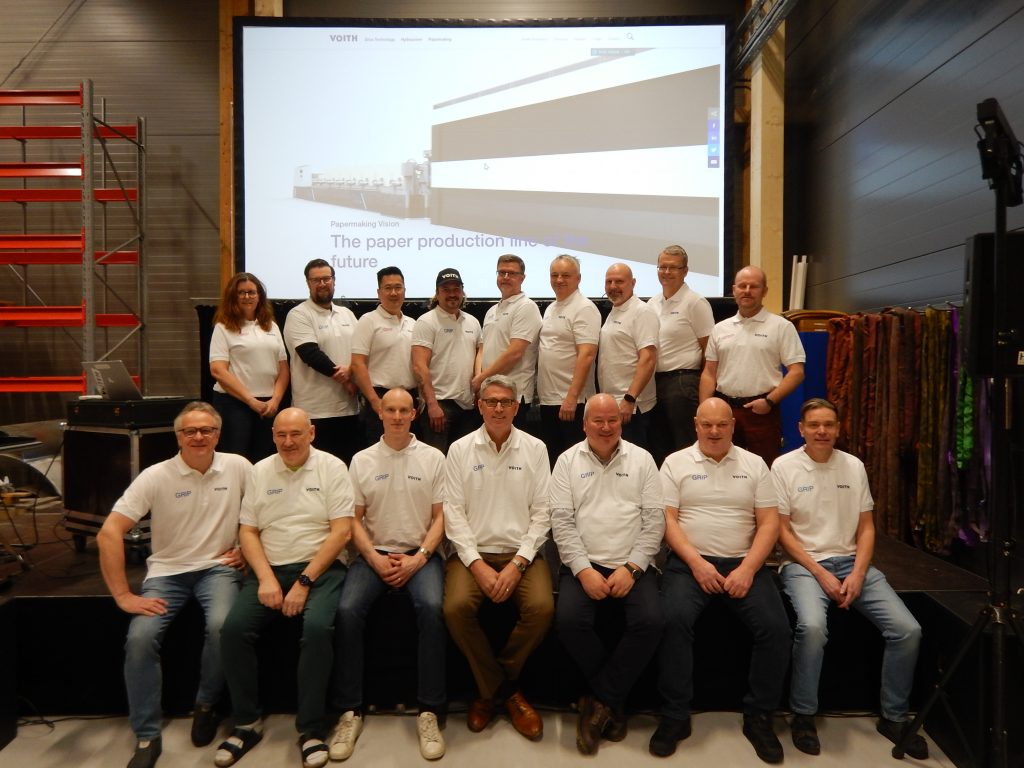 New workshop and office in Karlstad, Sweden, increase capacity for refurbishment services in Scandinavia and all over Europe
State-of-the-art equipment ensures highest level and wide range of technology services for customers
Voith inaugurated its new refurbishment workshop in Karlstad, Sweden, alongside its customers, business partners, employees and media representatives. The new workshop and office space significantly increase capacity for refurbishment services of screw presses and screens in the Karlstad region, Scandinavia, and for all of Europe. It also presents the opportunity to refurbish other equipment, such as rotary valves, vacuum pumps and rolls.
"Our new location in Karlstad is a clear investment in the future of Voith Paper in Sweden," said Jan Haraldsson, Operations Manager at Voith Paper Fabrics Högsjö AB. "Our customers now benefit from state-of-the-art equipment, a higher capacity and an even wider range of refurbishment services than before."
During the event, members of the Voith Paper Products & Services leadership teams from Sweden and Germany alongside BTG and representatives of longstanding customers, including Holmen Braviken, learned about Voith Paper's presence in Scandinavia and its efforts and achievements in sustainability and digitalization.
Wider range of refurbishment services
With the new location in Karlstad, Voith replaces the previous site of its Products & Services Division, doubles capacity for screw press refurbishments and meets increasing customer demands in this area. The largest screw presses can now be overhauled at the Voith site, allowing customers to significantly reduce downtime due to screw press refurbishments at their plant. Additionally, the new facility is equipped with a larger overhead crane capacity.
"The expanded crane capacity enables us to serve our customers with a wider range of refurbishment services," said Krister Nygard, Service Center Director Scandinavia at Voith Paper Fabrics Högsjö AB. "We can refurbish rotary valves, vacuum pumps, rolls and other components."
Clear focus on sustainability and efficiency
The expansion in Sweden goes hand in hand with Voith's commitment to sustainable and efficient paper production. Refurbishment services allow for the economical use of raw materials and an increase in efficiency while utilizing existing resources. With the new location, Voith additionally sets a clear focus to serve its customers with efficient and sustainable services using state-of-the-art technology and expertise. In the course of the inauguration, Voith celebrates 10 years of its Products & Services Division in Sweden and takes the next step to further strengthen its business operations in northern Europe.
About the Voith Group
The Voith Group is a global technology company. With its broad portfolio of systems, products, services and digital applications, Voith sets standards in the markets of energy, paper, raw materials and transport & automotive. Founded in 1867, the company today has around 21,000 employees, sales of EUR4.9 billion and locations in over 60 countries worldwide and is thus one of the larger family-owned companies in Europe.

The Group Division Voith Paper is part of the Voith Group. As the full-line supplier to the paper industry, it provides the largest range of technologies, services, and products on the market, and offers paper manufacturers integrated solutions from one source. The company's continuous stream of innovations facilitates resource-conserving production and helps customers minimize their carbon footprint. With its comprehensive automation products and leading digitalization solutions from the Papermaking 4.0 portfolio, Voith offers its customers state-of-the-art digital technologies to improve plant availability and efficiency for all sections of the production process.