Better your Global Corrugated Business! GlobalCorrugated.com is AVAILABLE now!
On 11 January 2023, GlobalCorrugated.com, a one-stop online trading portal serving global corrugated packaging market is now officially launched.

GlobalCorrugated.com is equipped with whole Products Library, Purchase Requests Releasing, 24/7 Online Enquiries, Live Chat as well as other featured functional modules to make the global corrugated packaging market run the business smoothly.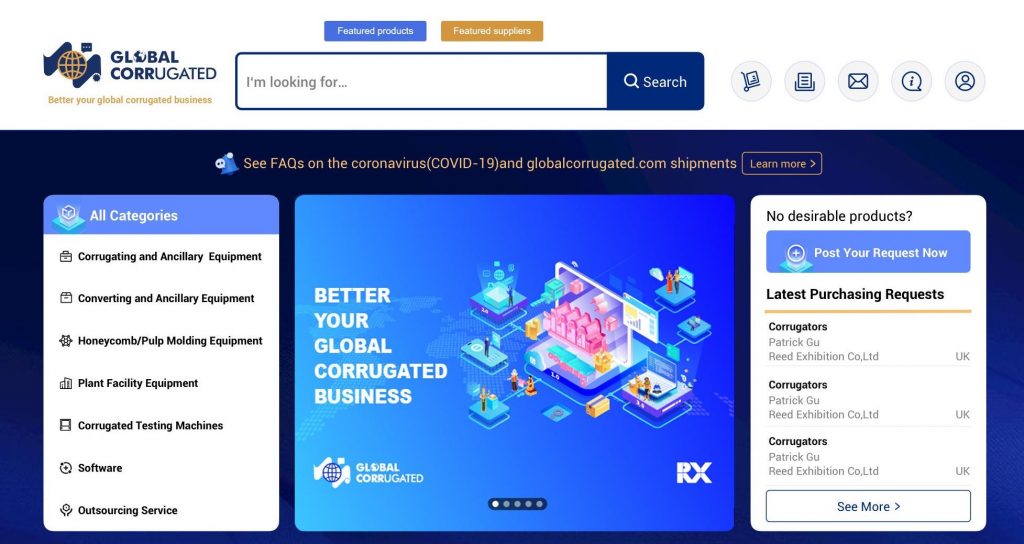 Powerful product library and functions make sourcing easier
Total around 390 qualified suppliers will be settled in the whole 2023, with over 6,000 products and solutions will be available to global corrugated packaging market. Buyers can send the enquiries to settled suppliers at any time with any needs to optimize their own business, to truly realize the freedom of time and space, cost saving and lead to an effective business environment. It is worth mentioning that the new function of GlobalCorrugated.com can intelligently match relevant suppliers and product solutions according to enquiry information, historical browsing records and collection records, promoting the transactions between both sides of buyers and sellers. Compared with traditional channels, buyers can obtain supplier information and match cooperation intentions more efficiently.


Professional corrugated-exclusive portal, better your business
For industrial suppliers, GlobalCorrugated.com will act as an efficient and comprehensive customer acquisition tool to help gather more buyers. Suppliers can upload quality product information on their online shop to give global buyers a more intuitive understanding of cutting-edge technology solutions, while the year-round enquiry function and live chat function will provide the smoothest business matching channel between suppliers and buyers. The website also supports advertising opportunities for partner suppliers to further enhance their brand exposure, thus expanding their influence in the global corrugated market.

Business-led, followed by events and contents
Global Corrugated.com will be divided into three versions: 1.0, 2.0 and 3.0. The current version is 1.0. With continuous updating of functions, GlobalCorrugated.com will successively launch versions 2.0 and 3.0. Version 2.0 will have a popular events section contains industry webinar, online exhibition, live event, new product debut and other quality events related to the global corrugated industry.


By version 3.0, GlobalCorrugated.com will become a global trend think-tank, sharing the information of the global corrugated packaging industry to users efficiently and accurately.


The fully upgraded GlobalCorrugated.com will become the service centre for trade consultation and information of the industry, help industrial companies obtain global hotspots, cutting-edge trends, innovative technologies, production knowledge, etc., and provide efficient solutions for trade activities between high-quality suppliers and global buyers. All our efforts are aimed at stimulating digital trade and promote the global integration process of the corrugated packaging industry.
We are pleased to announce that GlobalCorrugated.com is available to all of you. It aims at optimizing your business in more effective way, launching the high-quality online events for your free participation, and keeping the updates regarding any details about the market. No hesitation to join us via the link globalcorrugated.com, we are firmly convinced that you will be better benefited by what we provide after starting this pleasant corrugated journey!