Printing South China & Sino-Label Open in Guangzhou
The 27th South China International Exhibition on Printing Industry (Printing South China) and The China International Exhibition on Label Printing Technology (Sino-Label) grandly opened on 4-6 March at Hall 1.1, 2.1, 3.1, 4.1, 5.1, 6.1, 7.1, 8.1, Area A, China Import & Export Fair Complex, Guangzhou, PR China.
During the opening press conference, Li, the person-in-charge from China Foreign Trade Guangzhou Exhibition Co., Ltd., said that the scale of exhibitions is growing continuously and progressing steadily. The exhibition has expanded to include 3 more exhibition halls at a new record high. "In order to reach global buyers, the exhibitions provided an online platform and live broadcast activities with 2-hour services and communication platforms thus breaking the boundaries of time and region," added Li.
Celine To, General Manager of Adsale Exhibition Services Co., Ltd., introduced the three characteristics of Printing South China and Sino-Label: advance with the times, pragmatic and innovative, and diversified, providing the industry with a full range of printing and packaging solutions. At the press conference, representatives of brand exhibitors shared the development of digital printing, label printing, intelligent packaging and international advanced packaging design technology, revealing the future development trend of the printing and packaging industry.
Innovative Printing and Packaging Machineries and Technologies
Following the trends of digitalization and environmental protection development, Printing South China and Sino-Label gathered high-efficient and cutting-edge products and technologies of well-known exhibitors to fulfil enterprises new positioning and transformation demand. Over a thousand of exhibitors introduced and demonstrated their new machines, sharing with printing and packaging buyers.
Themed zones of Digitalization and Application Zone, Intelligent on Packaging Printing Zone, Innovative Materials and Applications Zone, Paper Container Equipment and Sustainable Packaging Zone, Flexible Packaging Printing Zone and Corrugated Zone in Printing South China (Hall 2.1-5.1), together with Digital Label Zone, Green Label Materials Zone, RFID Smart Label Zone and Label Printing Equipment Zone in Sino-Label (Hall 1.1. 6.1-8.1) gathered digital innovative solutions to fulfil the new requirements of safety and green production of downstream market, provided the new directions for the industry and helped the enterprises to transform their business and reduced costs.
Live Streaming and Online Business Matching for All Visitors
As a customer-oriented expo, Printing South China and Sino-Label provided the live streaming and online business matching service for those visitors who were not able to come to the show, they had the chance to learn the latest equipment introduced by the premium exhibitors, and enjoyed the lively atmosphere of the show. Click here now to learn about the latest information, obtain innovative product technologies and solutions, conduct business exchanges, and explore business opportunities.
Business activities around the world have been affected by the epidemic, while the procurement demand in the market is continued. On 5 March, the expo held an online business matching with 11 exhibitors including Guowang Group – Zhejiang Oulite Technology Co., Ltd., Wenzhou Guangming Printing Machinery Co.,Ltd., Zhejiang Jinbao Machinery Co., Ltd., Dongguan Maufung Machinery Co., Ltd., Zhejiang Weigang Machinery Co., Ltd., Hangzhou CRON Machinery & Electronics Co., Ltd., Zhejiang COASO Technology Co., Ltd., Wenzhou Caunta Printing Machinery Co., Ltd., Zhejiang Aoer Printing Packaging Machinery Co.,Ltd. and Wenzhou Youbond Machinery Co., Ltd. Participating exhibitors got a chance to introduce their hot-selling printed label packaging products and equipment. More than 100 end-product buyers had participated in the matching meeting.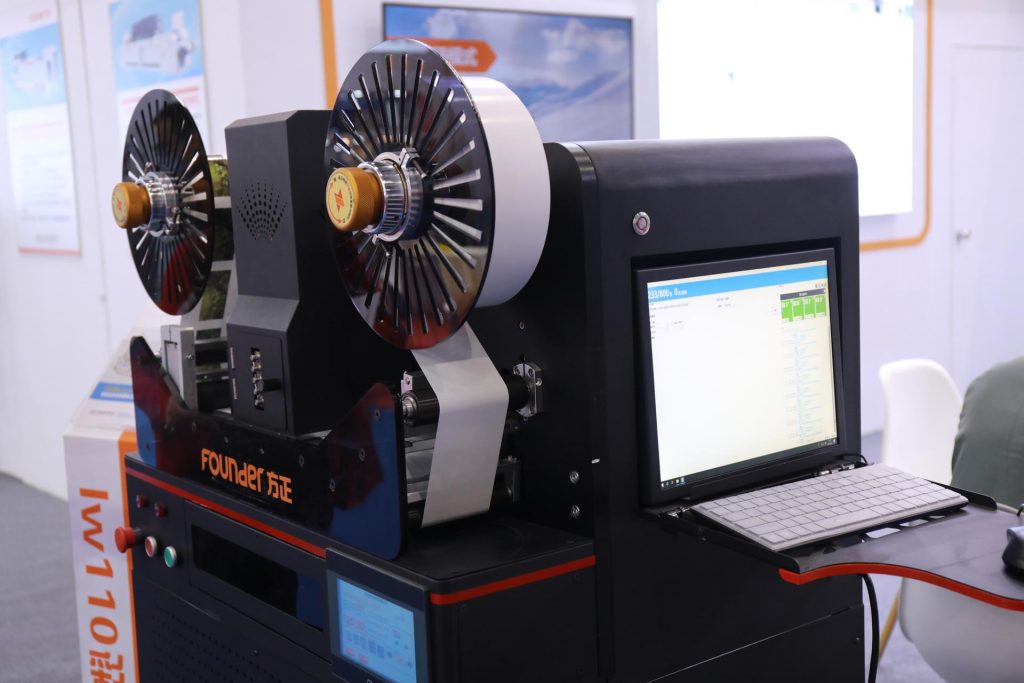 Over 20+ Forums Concurrently Present in the Exhibitions
More than 20 concurrent events were present during the show, which covered green, intelligent and cost-efficient topics. 2021 RFID Application Trends and Development Conference, The 4th Anti-Counterfeit Intelligent Tracing Technology Conference, Colour Management, Thousand Scenarios Supply Chain Solutions – Smart Packaging Strategy Symposium and Product Packaging – Brand Building Booster for F&B Catering provided the market hotspot and future trends for the audiences during the conference.
On 5 March, there were more concurrent events, such as Single PE Material Composite Packaging Facilitates Environmental Protection, The 4th Green Development Summit of Pulp Molding, The 5th China Intelligent Printing and Digital Convergence Innovation Summit, Intelligent Manufacturing and Cost Reduction Integration Innovation Conference and Green Packaging Printing in Digital & Intelligent Era Forum. In addition, Tech D.N.A., a two-days event at Hall 2.1 (booth no. 2530), invited some premium exhibitors such as YUTO, Landa, W&H, HP, Masterwork Group, UPM, Avient, 3M, Billerudkorsnas and Bekannter to discuss the hot topics of green packaging, smart packaging, digitalization, innovative materials and flexible packaging. All the visitors, buyers and experts from printing and packaging industry joined the forum.
6 Theme Zones in Sino-Pack and PACKINNO were Held Concurrently
Sino-Pack and PACKINNO were held concurrently with Printing South China and Sino-Label, featuring 6 theme zones of Smart Packaging + Smart Logistics, Food Packaging, General Packaging, Liquid Packaging, Coding and Marking and Packaging Materials and Products, and showcased high-tech, comprehensive packaging solutions to meet new normal demands. Buyers were able to get the new direction of printing and packaging industry to grasp the opportunities in the new business environment.
With the booming demand for food, beverage, catering takeaway, e-commerce and logistic industry, how to enhance the company values and products through printing packaging was the whole industry spotlight. As the first print-to-pack expo in 2021, Printing South China and Sino-Label gathered over 1,600 exhibitors covering printing, labelling and packaging, and provide practical and high-efficient solutions to whole production chain.
For more information, please visit:
Website: www.PrintingSouthChina.com / www.SinoLabelExpo.com
Facebook: @PrintingSouthChina /@Sino-Label
Twitter: @PrintingSouthChina / @SinoLabel
LinkedIn: @PrintingSouthChina / @SinoLabel