FAN Separator GmbH: FANtastic for the Paper Industry and the Environment
Best economic and operational efficiency in the separation of reject, effluent and sludge.
From the FAN Separator PSS, for the separation of wastewater into a solid and a liquid fraction, the new FAN sludge separator SPS, for the dewatering of secondary sludge, the FAN-BELTEC screw press BP, for dewatering of pulper rejects, to centrifugal cleaners, submersible mixers and pumps: the pioneer in separation technology "FAN Separator GmbH" – a company of the Austrian BAUER Group – is presenting its latest product upgrades. Best results at low energy consumption, user-friendly control, compact design, excellent manufacturing quality as well as extremely long service life, are the focuses of their innovations. 
The FAN Separator PSS, a very popular product in pulp and paper mills, is appropriate for a wide range of applications (such as dewatering of fine reject in the stock preparation, fibrous sludge's from flotation units of wastewater treatment, etc.) was technically upgraded. The special system, which avoids plugging and is permanently self-cleaning, can be feed at a consistency starting from already 0,1% up to 20% TS, features further now practical solutions for a comfortable and easy handling such as a tightly closing cover on the screen casing for easy cleaning. Due to the outstanding technical design, the system is able to substitute belt presses, decanters and centrifuges and achieves dryness between 25% up to 65%TS.
For the FAN-BELTEC screw press BP for dewatering of pulper rejects, the focus has been put on increasing the lifetime of wear parts and on improving the dry content through control engineering innovations. This screw press has always stood out due to its sturdiness and long service life and it has been appreciated for decades for its high cost-saving potential in operation. Exchangeable filter plates are made of wear and chemical resistant stainless steel. The frame of the machine is protected by exchangeable wear parts as well. The new BELTEC BP screw press comes in an outstanding robust but even more compact and improved design, for a capacity up to 60 bone dry tons and a dryness up to 85%TS.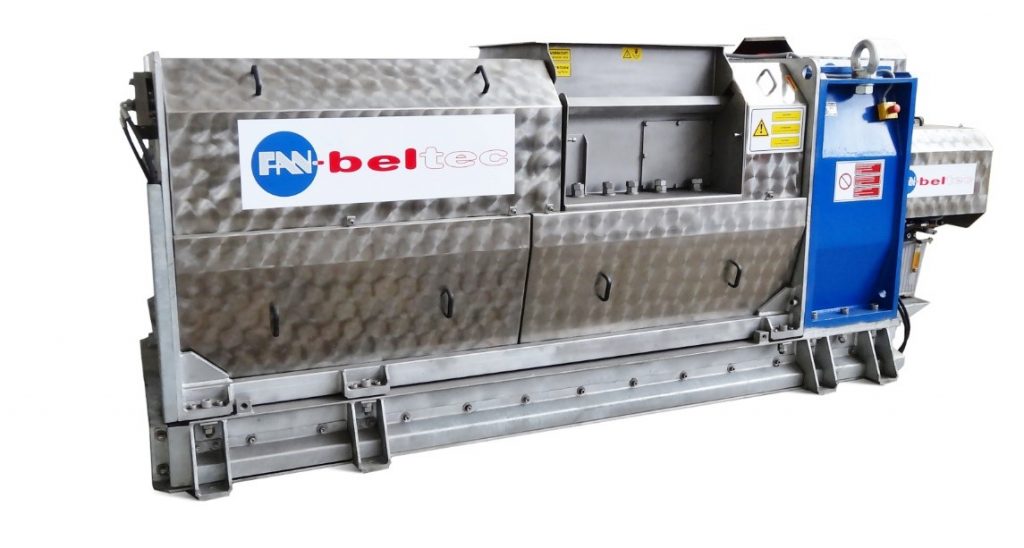 In addition, a new product for the dewatering of secondary sludge will be presented: the FAN Sludge Separator SPS. This secondary sludge separator will be installed mainly in sewage plants, where energy intensive decanter centrifuges often have been used so far. With a drive power of only 0,55kW, the separator, which is very compact in size, can achieve a dry mass content of up to 30%, a revolutionary result with this kind of special sludge.
The aim of the systems is separating liquid from solids, to minimize the content of humidity, for a decrease of volume and weight, to increase the heating value and the recovery of valuable water for a re-usage. The focus is always on achieving the best results at low energy consumption, user-friendly operation, compact design, high quality of workmanship and a long product lifetime. In addition to the higher dry-matter content in the solids, which FAN separators achieve in comparison to conventional dewatering machines, such as belt-presses, there are significant reductions of transportation and disposal costs, maintenance, energy consumption and space requirements. No matter which application is concerned, whether in pulp, paper, tissue or board, the return on investment for a FAN Separator product is usually realized within just a few months.
FAN Separator technology allows to achieve highest cost-savings year after year and contributes to improving the operating result remarkably. A positive contribution toward the strengthening of the environmental profile and an increase in competitiveness!

FAN Separator GmbH
FAN Separator GmbH is a company of the Austrian BAUER Group. Since its foundation in 1930, the BAUER Group, with headquarters in Voitsberg, Styria, has been focused on irrigation and slurry management technology. Today, the company is developing rapidly in the biotechnology sector with wastewater treatment & biogas plants and it is focusing on three main sectors: irrigation management, waste management and energy management. The BAUER Group is the Global market leader in irrigation technology, exports to around 100 countries and currently consists of 17 companies.